One of the common questions I get asked is, how long will it take to build a house or units, and what is the process!
There are a variety of factors that can impact the timeframe of a building. So it can be challenging to give a definitive answer, as unfortunately, even builders can't control the weather or other contractor's obligations!
However, a good builder will take these things into consideration and allocate time for the uncontrollable events when giving you a build timeframe estimate.
It's important to understand this, so your expectations are realistic and you can plan to arrange things, such as removalists, around the timeframe.
When you build a new home, there are six basic stages that you will experience.
These stages relate to both the practical and financial aspects of building your home.
If you have a mortgage, your bank will already have an understanding of the financial stages of a build and will assist you with the process.
Stage One is the deposit.
Once you have agreed on a house plan and everything is approved by your local council, you will need to make a deposit with your builder to confirm the contract.
Generally, this will be around 5% of the total build cost.
Stage Two is site preparation and footings for the home.
This involves surveying the site, excavation, pipework and other structural requirements such as the concrete slab.
This stage requires a 15% deposit.
Stage Three is the building of framework.
This is the stage where most people start to get excited as they can more easily see what the set-out of the finished house will be like.
This stage requires a 20% deposit.
Depending on your builder and accessibility, you may be able to walk through the house and take photos to look back on.
Stage Four of the build is the enclosing of the house with bricks or whichever external products you have chosen.
This is the stage where the house often becomes lockable in preparation for the next stage.
Depending on your builder, you will either pay 25% prior to this stage beginning or after completion.
Stage Five is where the personality of the house starts to appear.
Kitchens, bathrooms, painting, floor coverings and other fittings are installed.
Your financial outlay during this stage is generally 20%.
Stage Six is the final stage before you receive the keys to your new home.
During this stage all of the final touches are made to the house. The surrounding yard is cleaned of building rubbish and the cleaners come in to make sure your house is spotless for you to move into and enjoy.
This is when you pay the final 15% of the total cost.
"Handing over the keys to a new home is one of the best stages of building my clients a new home. I get to experience first-hand, the satisfaction of knowing that I have delivered a house that will be enjoyed for many years."

Get it built better with baseup building
-Jim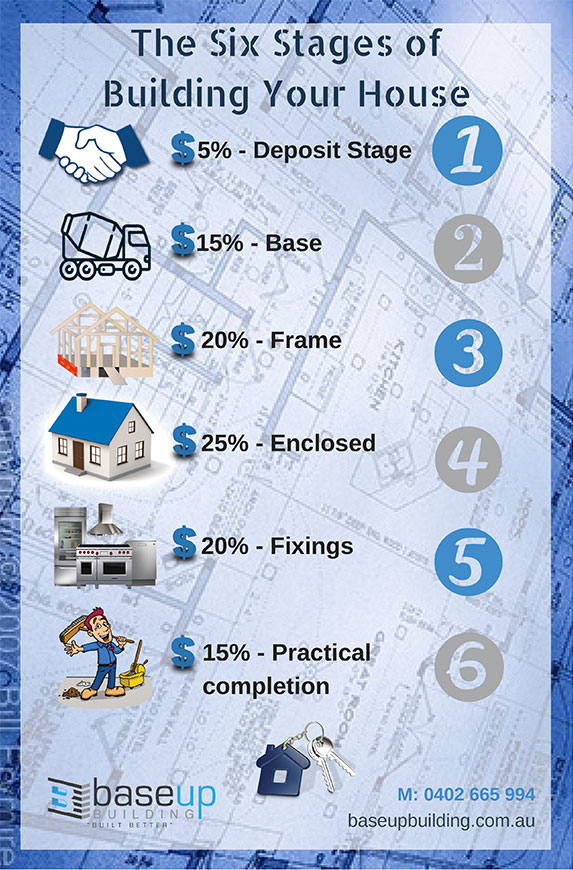 Share this image on your favourite social media
Want to know more? Subscribe to receive our latest articles directly to your email inbox. You can easily share articles with friends and family on social media or by sending them the link to our website.
Discover more about Who's Who in the Building Zoo?!
Read More of Jim's Building Tips